12 Delicious Foods You Didn't Know Were Healthy
During National Nutrition Month, you might be inundated with advice on diets, health foods and food fads. Celery juice, the keto diet, Whole30…it's impossible to keep up! It can be hard to stay on track and above the dietary fray, which is why we are rounding up our favorite meals that are easy, approachable and tasty, too! No fuss, no trips to specialty stores necessary–these recipes will make your health journey easy, not harder!
When you're making healthy happen, it can be hard  to pass on foods you would typically indulge in, but the truth is, you don't have to. Whether you're looking to lose weight, maintain your current weight, or simply add more nutritional value to your diet, these so called "guilty foods" can be made healthy. It just requires thinking outside the box and inside your kitchen!
Eating meatloaf doesn't have to be a mystery. Substitute ground turkey for a leaner fat profile, and quinoa to pump up the protein, and you'll feel truly comfortable consuming this comfort food.

If you haven't heard, Chipotle has released their guac recipe! YAY! Season packets or premade containers can't compete with the simplicity of this spread made from scratch. Just combine mashed avos with diced tomatoes, red onion, cilantro, and lime for a fresh dose of healthy fats!
3. Egg Casseroles
We're no longer too concerned about cholesterol when it comes to eggs. So grab a carton and cook them any way you like. We recommend these tasty crustless-quiches or a veggie filled egg bake.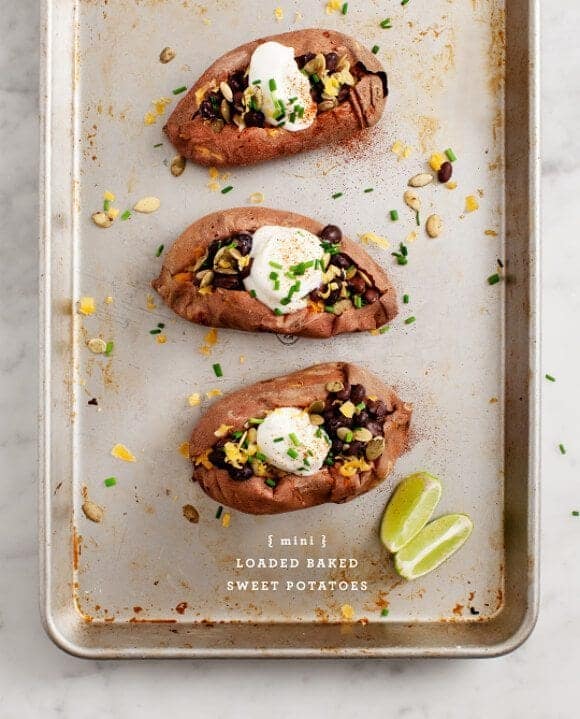 Foods with more vibrant colors like sweet potatoes have more nutritional value than traditional white potatoes. When baking potatoes, stick to the ones that add color to your plate. Top with diced veggies, salsa, and plain greek yogurt to replace sour cream!
5. Rice
Consider utilizing wild rice in dishes that would normally call for white or brown rice like stir fries, soups, or salad recipes. Wild rice, like quinoa, is slightly higher in protein, giving it a nutritional advantage to white or brown rice. Plus, it's an excellent source of fiber!
Homemade whole wheat pizza crust can be as easy as 4-5 ingredients—water, yeast, salt, whole wheat flour, and sometimes some sweetener. I bet you can even have it made and in the oven before the delivery man arrives.
With thinly sliced zucchini or eggplant as noodles, you can turn this dish into low carb, just like THAT! Swap out ricotta for cottage cheese for a lower fat option!
Opt for lean sources of protein when indulging in a burger. Ground turkey or bison make for great burger patties. You can even go bun free as a low carb-paleo route, if so inclined.
Paleo recipes know what's up when it comes to pancakes. Almond and coconut flours add nutritional value while also being gluten free. Devoid of any added refined sugar so all you have to do is add your naturally sweet maple syrup. Not digging the paleo option? Try our 3-Ingredient Banana Pancakes, instead!
Who's to say cookies can't be healthy? You just got to know what to look for. I personally look for recipes with sugar coming from natural sources like bananas, honey, or maple syrup. Whole wheat flour and oats are other good ingredients for fiber filled cookies. What's better than a cookie for dessert? A cookie for breakfast! Don't miss our delicious Apple Butter Oatmeal Breakfast Cookie recipe that you are sure to love.
Are you sweet? Or savory? Plain greek yogurt is the ultimate substitution for ranch, sour cream, or cream cheese based dips. Try this greek yogurt based spinach and artichoke dip or this healthy and sweet dip for fruit!
12. Grilled Cheese
Recipe for kid grilled cheese: white bread (likely with the crust cut off and buttered), 1-2 slices american cheese singles.
Recipe for adult grilled cheese: whole wheat bread, low fat cheese, and ______________. Your opportunities are endless. Cooking Light hooks us up with some amazingly light grown up grilled cheeses.

Comments
Easy Blueberry Mini Tarts
Mini Blueberry Tarts
Ingredients (yields 4 tarts)
Crust
1C raw almonds or 1C almond meal
2T butter, melted
2T brown sugar
1/4t salt
Filling
~6T blueberry jam (homemade or store bought)
~1C fresh blueberries
Method
Preheat oven to 350F and spray tart pans with nonstick cooking spray.
In a small food processor, process raw almonds into almond flour. Then add in brown sugar and salt and pulse. Place mixture into a medium sized bowl and pour in 2T melted butter.
Using a fork, thoroughly mix together the crust ingredients.
Separate crust mixture into four equal sections. Then, evenly pour ¼ of the mixture into a small tart pan and press firmly with a spoon or your fingers. Repeat x 3.
Place tart pans on a cooking sheet and cover with tinfoil. Then, bake (covered) for 15 minutes.
Uncover tart pans and bake for an additional 10 minutes or until the crust begins to brown. Rotate pans every 5 minutes.
Let the crusts cool for about 30 minutes. Then, evenly spread on about ~1 ½ T of blueberry jam (or any kind of jam).
Finally, place blueberries on top of jam. Enjoy!
Nutrition per serving (1/2 tart): 154 calories, 8g fat, 18g carbs (2g fiber, 12g sugars), 3g protein
Also check out some of our favorite healthy tart recipes from around the blogosphere:
Strawberry Rhubarb Tartlets
Dark Chocolate Cherry Amaretto Tart
Healthified Blueberry Lemon Tart
Rustic Pear Tart
Very Cherry Tart with Almond Crust
White Chocolate Berry Tart
What is your favorite kind of Tart?
Share in the comments below!
4 Outstanding Reasons–and Recipes–to Eat More Blueberries
Heads up: It's peak blueberry season. And no doubt you've heard that blueberries are totally beneficial super foods with almost magical health benefits. Well, it's true. They're considered "brain food," with the ability to fight toxic proteins, and can harness their crazy-good antioxidants to fight harmful molecules and potential infections (so long, UTIs!). With all these benefits, and the United States' role as the world's largest supplier, there's an entire month— July—dedicated to their greatness. Do you need more reasons to eat them? If so, here goes. Skip to the end for blueberry recipes, if you're already convinced.
1. Digestive health. Blueberries have high fiber content. Enough said.
2. Weight loss support. That fiber also increases your general sense of fullness, and extends the sensation between meals, reducing overall appetite.
3. Better bone health. Bone structure, strength, and elasticity are all helped by the great combo of iron, zinc, vitamin K, magnesium, calcium, phosphorous, and manganese found in blueberries.
4. Smoother skin. Say so long to some extra wrinkles thanks to the vitamin C that helps collagen improve overall skin texture, and acts as an antioxidant to help prevent skin damage from the sun and pollution.
5. Lower blood pressure. Blueberries contain potassium, calcium, and magnesium, which naturally decrease blood pressure. They do not include sodium, the concerning element connected to a high BP.
Here are five tasty ways to add more blueberries into your diet:
Toss Them in Fresh
A handful can be added to a salad, smoothie, oatmeal, or any number of other meals that could use a boost.
Breakfast: Vanilla Blueberry Yogurt Parfait
Take an idea from above for your first meal of the day, or prepare these delicious single-serving breakfasts.
Baked Goods: Lemon Blueberry Yogurt Muffins
Lemon and blueberries are both beneficial for your health. Enjoy the combo in this gluten-free side.
Snacks: Frozen Red, White & Blue Yogurt Bites
Take a break from Fourth of July activities with these colorful, cool morsels.
Dessert: Blueberry Mini Tarts
Enjoy a healthier dessert, and limit your sweets consumed— unless you pop too many!
Note: Beware of food that's blueberry-flavored. It often doesn't include actual blueberries. We want the real deal! And remember to hold off on washing the "dusty" fruit until you're ready to eat them (to make them longer-lasting), and watch their juice; blueberries are a natural dye.
Sources: Medical News Today, Health.com and WebMD

Comments
Inexpensive 5-Ingredient BBQ Black Bean Burgers You Need to Try
This is a great recipe to keep on hand for when the pantry is bare and the grocery budget or shopping time is low. Each serving costs less than a buck to make—even less if you cook your own black beans from scratch—and it's packed with nutrition. Sometimes eating healthy on a budget can be tricky, but this recipe makes it easy!
You might be tempted to fire up the food processor for this recipe, but trust me, you want to go manual for these burgers and mash up the black beans with a fork. The food processor takes black beans from, well…bean-like to mush in a matter of seconds. By just mashing your black beans roughly with a fork, you can easily control the texture of your burgers.
Also, when you're browsing the aisles at the grocery store for barbecue sauce, make sure to read ingredients. There are some great options out there with recognizable ingredients, but there are also a few on the shelf that have artificial flavors, colors, and high fructose corn syrup. Skip those non-food versions and instead pick up a bottle that lists ingredients you recognize (or make your own if you have a rockin' recipe!).
Top these gloriously healthy burgs with your favorite fixins and enjoy the beautiful weather. Happy patio season!
5-Ingredient BBQ Black Bean Burgers
Makes 3 large burgers
Ingredients
1 15-ounce can black beans, drained and rinsed
1/4 cup of your favorite barbecue sauce
1 teaspoon garlic powder
1 teaspoon onion powder
2/3 cups quick cooking oats (see notes)
Whole wheat burger buns and burger toppings, for serving
Directions
Preheat oven to 400°. Line a small baking sheet with parchment paper or a silicone baking mat and set aside.
In a medium-size mixing bowl, mash the black beans with a fork until you have a chunky paste (you'll want to leave some of the bean chunks for texture).
Add in the barbecue sauce, garlic powder, and onion powder. Stir until well-combined.
Add in the oats, and stir until well-combined. You don't want any lumps of oats.
With wet hands, form the mixture into three even-sized patties. Place on the prepared baking sheet. Bake in preheated oven for 15 minutes, flip over, and then bake an additional 10 minutes or until the patties are slightly brown, beginning to crack on the edges, and feel solid.
Serve immediately on whole grain buns with your favorite burger toppings.
Notes
Don't have quick cooking oats on hand? Just take regular rolled/old fashioned oats and pulse them in a food processor until they are well-chopped, but not powdered.
Nutrition Per Burger
Does not include bun or toppings
250 calories, 2.8g fat, 46.6g carbs, 10.9g protein

Comments