Healthy Protein Cookie Dough Bites
I think I can safely say that we've all been caught eating raw cookie dough straight from the bowl. However, my experience working in nutrition and in the food industry has taught me that this is not a good thing. It's quite risky and it can compromise your health goals. You see, most people assume that the warning to not consume raw cookie dough is primarily to avoid the foodborne illness salmonella, caused by ingesting raw eggs. But there's also a warning on flour, which is extremely dirty (until baked, of course).
This lead me to seek out food-safe cookie dough treat ideas (to fit my dietary restrictions: gluten free, dairy free). You'll love what I found because these Cookie Dough Bites will satisfy your hankering for cookie dough. Plus, they're low in sugar, high in protein, and wheat free!
Mini No-Bake Cookie Dough Bites
Ingredients
Makes ~ 18-20 teaspoon sized dough bites
3 tbsp coconut oil
1 tsp vanilla
2 tsp honey
½ cup almond flour
½ cup pulverized oats (or oat flour, I like mine a little more chunk)
1 scoop vanilla protein powder
1 heaping tbsp nut butter of choice
2 tbsp cacao nibs, mini chocolate chips or carob chips
Directions
Mix coconut oil, vanilla, and honey in a medium bowl.
Add almond meal, pulverized oats, and protein powder.
Stir in nut butter. Continue mixing until thoroughly combined.
Add chip of choice to "dough" mixture.
Using a heaping teaspoon, form dough into balls.
Freeze dough bites (minimum 2 hours).

Comments
Inexpensive 5-Ingredient BBQ Black Bean Burgers You Need to Try
This is a great recipe to keep on hand for when the pantry is bare and the grocery budget or shopping time is low. Each serving costs less than a buck to make—even less if you cook your own black beans from scratch—and it's packed with nutrition. Sometimes eating healthy on a budget can be tricky, but this recipe makes it easy!
You might be tempted to fire up the food processor for this recipe, but trust me, you want to go manual for these burgers and mash up the black beans with a fork. The food processor takes black beans from, well…bean-like to mush in a matter of seconds. By just mashing your black beans roughly with a fork, you can easily control the texture of your burgers.
Also, when you're browsing the aisles at the grocery store for barbecue sauce, make sure to read ingredients. There are some great options out there with recognizable ingredients, but there are also a few on the shelf that have artificial flavors, colors, and high fructose corn syrup. Skip those non-food versions and instead pick up a bottle that lists ingredients you recognize (or make your own if you have a rockin' recipe!).
Top these gloriously healthy burgs with your favorite fixins and enjoy the beautiful weather. Happy patio season!
5-Ingredient BBQ Black Bean Burgers
Makes 3 large burgers
Ingredients
1 15-ounce can black beans, drained and rinsed
1/4 cup of your favorite barbecue sauce
1 teaspoon garlic powder
1 teaspoon onion powder
2/3 cups quick cooking oats (see notes)
Whole wheat burger buns and burger toppings, for serving
Directions
Preheat oven to 400°. Line a small baking sheet with parchment paper or a silicone baking mat and set aside.
In a medium-size mixing bowl, mash the black beans with a fork until you have a chunky paste (you'll want to leave some of the bean chunks for texture).
Add in the barbecue sauce, garlic powder, and onion powder. Stir until well-combined.
Add in the oats, and stir until well-combined. You don't want any lumps of oats.
With wet hands, form the mixture into three even-sized patties. Place on the prepared baking sheet. Bake in preheated oven for 15 minutes, flip over, and then bake an additional 10 minutes or until the patties are slightly brown, beginning to crack on the edges, and feel solid.
Serve immediately on whole grain buns with your favorite burger toppings.
Notes
Don't have quick cooking oats on hand? Just take regular rolled/old fashioned oats and pulse them in a food processor until they are well-chopped, but not powdered.
Nutrition Per Burger
Does not include bun or toppings
250 calories, 2.8g fat, 46.6g carbs, 10.9g protein

Comments
Kid-Friendly Banana Nutella Ice Cream
Did you know you can make "ice cream" with just frozen bananas?! Ok, yes, technically this means it's not really ice cream. But you'll be amazed (I sure was) at how similar the consistency is without any dairy, and how quickly it comes together. So when you're itchin' for a cool treat, but don't want to set yourself back by consuming lots of sugar (or causing a little one to bounce off the walls!), try this recipe.
Even better: This banana Nutella ice cream is so simple to make it's incredibly kid-friendly. The steps and ingredients are very few, making it a fun recipe to tackle together. It's also easy to adjust. Your "ice cream" can consist of just the creamy, frozen bananas, but Nutella makes it tastier! As does peanut butter (a natural pairing) or your favorite frozen fruit. Have fun with it! Flavor and toppings are just suggestions; this is a recipe you can tweak to your own taste and calorie goals, and still enjoy.
Banana Nutella "Ice Cream"
Makes 4 servings
Ingredients
6 Ripe bananas, peeled and frozen
2 Tablespoons Nutella (or other flavoring, if desired)
Optional toppings (ie. sprinkles, chocolate chips)
Tools
Directions
Break apart your ripe bananas into small pieces and drop into plastic baggies.
Freeze bananas for at least two hours.
Rigorously mix frozen banana pieces in a food processor.
Keep mixing! Banana chucks will eventually turn into smooth consistency.
Add flavoring and mix a bit more.
Serve (with toppings as desired) and enjoy immediately!
Smaller pieces of frozen bananas are easier to mix. Regardless of size, you'll still need to use a spatula to redistribute the mixture a few times throughout the process. And just when you think it won't come together smoothly, mix a little more! It will.
Not a fan of Nutella? No problem! You can easily omit from the recipe and you'll still have delicious "nice" cream, without.  You can also try swapping the hazelnut spread for peanut butter or almond butter instead.

Comments
12 Delicious Foods You Didn't Know Were Healthy
During National Nutrition Month, you might be inundated with advice on diets, health foods and food fads. Celery juice, the keto diet, Whole30…it's impossible to keep up! It can be hard to stay on track and above the dietary fray, which is why we are rounding up our favorite meals that are easy, approachable and tasty, too! No fuss, no trips to specialty stores necessary–these recipes will make your health journey easy, not harder!
When you're making healthy happen, it can be hard  to pass on foods you would typically indulge in, but the truth is, you don't have to. Whether you're looking to lose weight, maintain your current weight, or simply add more nutritional value to your diet, these so called "guilty foods" can be made healthy. It just requires thinking outside the box and inside your kitchen!
Eating meatloaf doesn't have to be a mystery. Substitute ground turkey for a leaner fat profile, and quinoa to pump up the protein, and you'll feel truly comfortable consuming this comfort food.

If you haven't heard, Chipotle has released their guac recipe! YAY! Season packets or premade containers can't compete with the simplicity of this spread made from scratch. Just combine mashed avos with diced tomatoes, red onion, cilantro, and lime for a fresh dose of healthy fats!
3. Egg Casseroles
We're no longer too concerned about cholesterol when it comes to eggs. So grab a carton and cook them any way you like. We recommend these tasty crustless-quiches or a veggie filled egg bake.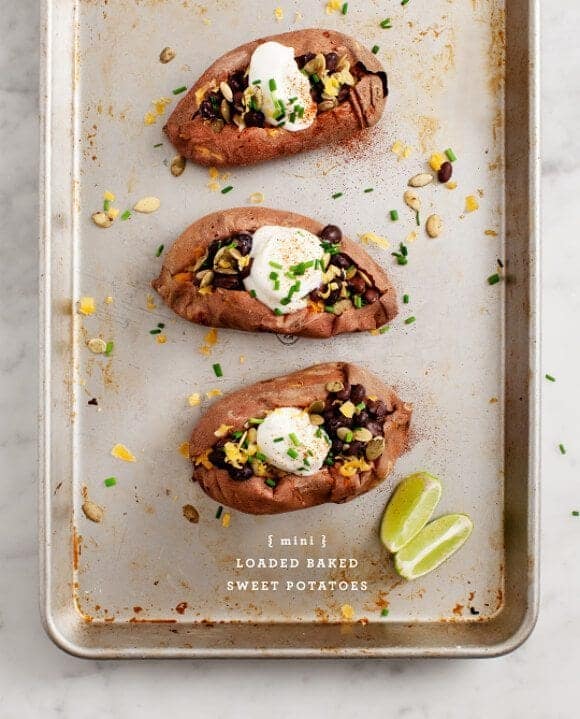 Foods with more vibrant colors like sweet potatoes have more nutritional value than traditional white potatoes. When baking potatoes, stick to the ones that add color to your plate. Top with diced veggies, salsa, and plain greek yogurt to replace sour cream!
5. Rice
Consider utilizing wild rice in dishes that would normally call for white or brown rice like stir fries, soups, or salad recipes. Wild rice, like quinoa, is slightly higher in protein, giving it a nutritional advantage to white or brown rice. Plus, it's an excellent source of fiber!
Homemade whole wheat pizza crust can be as easy as 4-5 ingredients—water, yeast, salt, whole wheat flour, and sometimes some sweetener. I bet you can even have it made and in the oven before the delivery man arrives.
With thinly sliced zucchini or eggplant as noodles, you can turn this dish into low carb, just like THAT! Swap out ricotta for cottage cheese for a lower fat option!
Opt for lean sources of protein when indulging in a burger. Ground turkey or bison make for great burger patties. You can even go bun free as a low carb-paleo route, if so inclined.
Paleo recipes know what's up when it comes to pancakes. Almond and coconut flours add nutritional value while also being gluten free. Devoid of any added refined sugar so all you have to do is add your naturally sweet maple syrup. Not digging the paleo option? Try our 3-Ingredient Banana Pancakes, instead!
Who's to say cookies can't be healthy? You just got to know what to look for. I personally look for recipes with sugar coming from natural sources like bananas, honey, or maple syrup. Whole wheat flour and oats are other good ingredients for fiber filled cookies. What's better than a cookie for dessert? A cookie for breakfast! Don't miss our delicious Apple Butter Oatmeal Breakfast Cookie recipe that you are sure to love.
Are you sweet? Or savory? Plain greek yogurt is the ultimate substitution for ranch, sour cream, or cream cheese based dips. Try this greek yogurt based spinach and artichoke dip or this healthy and sweet dip for fruit!
12. Grilled Cheese
Recipe for kid grilled cheese: white bread (likely with the crust cut off and buttered), 1-2 slices american cheese singles.
Recipe for adult grilled cheese: whole wheat bread, low fat cheese, and ______________. Your opportunities are endless. Cooking Light hooks us up with some amazingly light grown up grilled cheeses.

Comments